My reading life has felt very off this year, which I've learned really throws my mental health. But maybe the actual reality is that everything has felt off this year.
I break these reading roundups into half because doing one big year-long roundup at the end of the year stresses me out—my memory is not that impressive! Last year, I listed my top 25 reads for each half of the year. This year, looking through my reading history of the last six months, I was able to scrounge up 20—which is actually more than I thought I might find. Looking back on all these wonderful reads actually felt quite therapeutic—maybe my brain hasn't been so off after all.
So here are those random 20 that kept my brain tethered through 2021 thus far. As always, in no particular order:
How to Fail at Flirting, Denise Williams
Contemporary romance; Berkley (2020)
This was just a really pure delight. I loved the absolute dorkiness of both Naya & Jake; just thinking about them still makes me smile. It was so easy to fall in love with them from the start. And even though this book deals with heavier themes too, Williams handles it so well (and I've seen her direct readers to her content warnings so many times), that I still feel light when I think about this book. Warm, charming, and powerful. Can't wait for Williams's follow-up!
One Hot December, Tiffany Reisz
Contemporary romance; Harlequin (2016)
One Hot December is the last in a holiday trio (the first books in the series are set around Halloween and then Thanksgiving) that I gobbled up this winter, even if I was a bit behind with this Christmas one that I didn't actually read until January, oops. While they were all super enjoyable, this was my favorite of the bunch, probably because the heroine was a prickly lady welder, lol. There are two things though that I really loved about this whole series: one, it takes place on Mt. Hood, Oregon (where apparently Reisz lives!!), one of my very favorite places in the world. (Do I think of Reisz and this series every time I go there now? Yes.) Two, you can just tell how much fun Reisz had while writing all of them, which honestly felt…a little revolutionary? Feeling how much fun she must've had writing them was so fun to engage with as a reader, and was inspiring as a writer. Like, oh yeah. Sometimes, this can just be fun.
3. The Guest List, Lucy Foley
Mystery; William Morrow (2020)
You can thank the book club I started participating in this year for this one, a book totally out of my wheelhouse but that I totally enjoyed nonetheless (it's good to get out of your wheelhouse sometimes!). A really tight writing style that I loved, and a great whodunit murder mystery wherein you didn't only not know who the killer was, but also who the hell was actually murdered. As a bonus, it was really fun yelling about all the horrible people in this book with my book club friends over Zoom. (So many horrible people!!)
4. Perfect Matcha, Erin McLellan
Contemporary erotic romance; Self-published (2021)
This was book #3 in the Bold Brew series, a multi-author 10 book series based around a kinky gay coffeeshop in a college town in Pennsylvania. I also read Books 1, 2, 4, and 5, and will probably read the other 5 left in the series at some point when I need something fun and distracting because, well, I am trash. Books 1 and 2 (Cup of Joe by Annabeth Albert and Puppuccino by Allison Temple) were also really enjoyable, but it wasn't a surprise that Perfect Matcha was my favorite, since in my mind, Erin McLellan can do no wrong. Cam and Theo and their role-playing and pining and toy exploration were adorable.
I will say that this series advertises Bold Brew as an "inclusive" coffeeshop, even though every book in here was m/m—so like, just call it a gay coffeeshop/series. I would have loved this series even more if it actually was inclusive—if there were some f/f stories thrown into the mix, or more trans stories, too. Having a solid m/m series is easier for marketing, but also, like…screw Amazon keywords and search algorithms sometimes, ya know? We can be better.
5. The Intimacy Experiment, Rosie Danan
Contemporary romance; Berkley (2021)
This was the gentlest, softest book about the most badass people. Most romance readers know the pitch by now—a porn star and a hot rabbi—but this really is an emotional tour de force about faith, vulnerability, and love. I will note for transparency that I know and love Rosie very much, but this one felt really special to me and wrapped itself all the way around my heart.
6. Shipped, Angie Hockman
Contemporary romance; Gallery (2021)
This debut romance mostly set in the Galapagos was simply so much fun. The pitch for this one is also well documented—The Unhoneymooners meets The Hating Game—but this enemies to lovers really worked for me because Henley and Graeme's relationship never actually felt toxic to me (my problem sometimes with enemies to lovers)—readers know pretty much from the jump that Graeme is, in fact, a golden retriever that you want to cuddle and squeeze to death, and that the only actual toxicity between them is their workplace. And getting to watch Henley deal with that is super, super satisfying. Smart and charming and heartfelt.
7. There Will Be Phlogiston, Alexis Hall
Queer fantasy romance; 2018 (self-published)
This completed my foray into Hall's Prosperityverse, and I honestly wasn't sure how I'd feel about it, since it was said to be the story of Lady Rosamond Wolfram, who was…not painted in the best of lights in previous installments of this universe. But then again, like with a lot of Hall's work, this whole series was ABOUT exploring extremely flawed people—and the occasional pure beams of light who love them anyway, like Byron Kae in previous installments, and like Anstruther Jones in this one. So really it all made total sense in the end. What I will always remember most about this book was that even if Rosamond, Anstruther Jones, and Lord Mercury all lived in a dark, fucked up world…the ending for all of them was so fucking satisfying I couldn't stop thinking about it for days. This also might have been the first menage romance I've ever read? I…was a fan. lol.
8. Damaged Goods, Talia Hibbert
Contemporary romance; 2018 (self-published)
Damaged Goods is an extra story in Hibbert's Ravenswood series, slotting I believe between Books 1 and 2, and it is technically a novella, but I still have a hard time wrapping my head around that because this book made me feel more things than like, a majority of the full-length novels I've read. It's a second chance romance between very pregnant Laura and her childhood love Samir Bianchi, and I love Samir Bianchi so much that I can only call him by his full name, and goddamn, Hibbert is so good! She's so good at writing about heavy topics (both Laura and Samir have lived through significant trauma) but with characters that bring each other so much lightness and goodness, full of so much natural chemistry and humor, that it just feels wonderful to read. Also this novella is FREE? LIKE YOU CAN DOWNLOAD IT RIGHT NOW FOR FREE?? We do not deserve her.
9. Big Boy, Ruthie Knox
Contemporary romance; 2017 (self-published)
Since I'm on the topic of novellas, I'll jump into this one, which…phew. PHEW. I'm not sure if novella is even the most accurate term—short fiction, maybe?—because this one is a mere 77 pages, and how, HOW Ruthie Knox was able to knock me flat in 77 pages, I will never comprehend. Again, I feel like I remember both of these characters so much more vividly than half of the full-length novels I've read. This was another download I clicked because of Twitter, and like always, the readers I trust on Twitter GET ME, because this was the kind of super emotional gut punch I live for. Big Boy is, in fact, not a reference to the hero of this story, but to a train—a train that lives in a museum, where two almost-strangers occasionally meet to role play and make love. And oof, this book IS sexy, but more than that, it is just…an emotional gut punch. I know I already said that, but I can't think of any other way to describe it.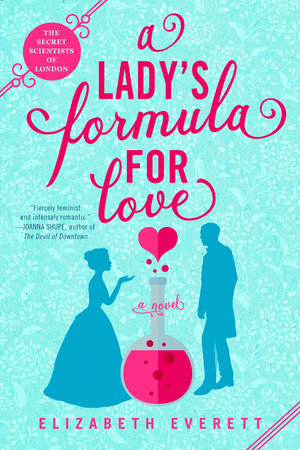 10. A Lady's Formula for Love, Elizabeth Everett
Historical romance (Victorian England); 2021 (Berkley)
Whenever I read well-done historical romance, I basically putter around the apartment muttering, "Okay, but how can they be so smart?" Like, how can historical romance writers understand history, and plot, and romance, and writing, all so freaking well? And then sometimes they go and add science to the mix, too, like this fantastic debut, and I really start to lose it. Anyway—this romance between a lady scientist and her bodyguard ticked so many of my boxes—a damn-what-society-thinks super-smartypants heroine, a starchy, buttoned up hero with wounds who falls to pieces over said smartypants heroine, a great cast of supporting characters, and a twists-and-turns mystery. I can't wait for more.
(I will note here that I have read critiques of Everett's inclusion of a trans character in here and the choices she makes in regards to him. I respect those critiques, and people's choice to maybe not read this book because of that [and to disagree with what I'm about to say]. My own viewpoint is that writing trans characters into historical fiction is extremely tricky—there are simply so many ways to describe being trans now that did not exist in the Victorian Era—for which I personally give authors grace. And that overall, the choice to include a trans character at all in historical fiction—and one that is so openly loved, accepted, and supported by the main characters, as is the case here—is one that is still powerful and important to me, and I was really grateful to see it in a book published by Berkley.)
11. Float Plan, Trish Doller
Women's fiction; 2021 (St. Martin's)
This book will undoubtedly be in the running for my Top 5 favorite books of all of 2021. (Being that we're still only at the halfway mark, I'm leaving room for others to possibly really wow me.) I'd call it women's fiction with a strong romantic plot line, since there is fantastic romance in here, but the heart of the story is really Anna's grief. (This is one of those ones where I feel like the cover and marketing misrepresent what this book actually is…which is not Doller's fault.) Struggling to get over her fiancé's death by suicide, Anna impulsively sets off for the Caribbean in his sailboat one day, the one they had planned to sail around the world in together. After an initial scary foray off the coast of Florida, she realizes she can't go it completely alone, and hires Keane Sullivan to help her reach Trinidad, where she and her fiancé were meant to be married. Doller's writing is just so tight, and this was such a sparkling, fascinating tour through the world of sailing and the Caribbean that left me in awe, and aching to explore the world and respect my life. Keane is dealing with demons of his own, and the way Keane and Anne respect and honor each other's grief is just…healing and beautiful. This one stayed with me for days.
12. The Gentle Art of Fortune Hunting, KJ Charles
Queer historical romance; 2021 (self-published)
So here us KJ Charles fans were, waiting for the last installment of the Will Darling Adventures, and she was like hey, actually, have this book instead! And we were like, okay! (I mean it's possible she had always planned to release this one before Subtle Blood and I just wasn't paying attention; it's hard to keep track of these prolific geniuses.) This standalone romp of two swindling siblings trying to escape their past and make their way in the world, and the grumpy baronet who gets in their way, was an absolute delight once I got immersed and like, understood what the hell was going on. (One signature of Charles's work, if you've never read it, is that she really just throws you right into it, and it almost always takes me a good few chapters to feel like I actually know what the hell is happening. But then I love it!) Charles is so good at plot, and that "but how the hell is this actually going to work out" feeling, and then swooping in with the MOST satisfying endings. A wizard.
13. The Ex Talk; Rachel Lynn Solomon
Contemporary romance; 2021 (Berkley)
In addition to being one of the kindest, most generous humans on the planet, Rachel Lynn Solomon is now pretty firmly entrenched as one of my favorite writers, too, and I loved The Ex Talk, her adult romance debut, just as much as I knew I would. Anyone who loves NPR and podcasts will feel SO SEEN by this book, and she is just so, so good at that seething rivals-to-lovers explosive chemistry. Gah. Her characters/writing also just have so many funny, relatable, lovable details crafted into them that make them last in your mind—I read this months ago and just the other day on the drive home, totally randomly, thought about Dominic's master's jar and felt so happy. And now I'm thinking about it again and feeling so happy again!!
14. Only When It's Us, Chloe Liese
Contemporary new adult romance; 2020 (self-published)
Liese is an author I kept hearing about last year and only finally got off my duff to start reading this year, and now I cannot wait to keep shoveling in every other book she ever writes. This is a romance set in college, so I'd consider it that new adult category that publishing is determined to make not exist and that readers continually beg for. Willa is a stubborn, hotheaded soccer star, so of course I loved her immediately. Ryder also used to be a soccer star, but has abandoned the game—and speaking—after losing his hearing. There is a lot going on in this book (big warning that Willa's mother is dying of cancer), but the chemistry between Willa and Ryder is so fantastic (and fun, and frustrating, and warm), and Liese's writing that level of emotional that I love, and so much about this felt fresh and different from romances I've read before. Like a big hug, even if I have personal FEELINGS about the end of Willa's soccer storyline, which has 100% to do with my own soccer feelings and not Liese's writing, lol. (Go Thorns!)
15. Hot Copy, Ruby Barrett
Contemporary romance; 2021 (Carina)
This is a super steamy office romance between a buttoned-up boss and her gooey soft cinnamon roll intern, but at the heart of the office dynamics and the steam is actually a mutual connection over dealing with grief. This book was also super fun for me because it was set in Boston, and I will always be sentimental over anything to do with Boston (where I used to live and where I started my own love story). It'll make you turned on AND make you cry, my favorite combo!!
16. Waiting for a Scot Like You, Eva Leigh
Historical romance (Regency England); 2021 (Avon)
Give me "grumpy Scot" + "road trip for a merry widow to visit an orgy" and I am already a very happy person! This final installment in Leigh's 80s inspired Union of the Rakes trilogy, like the whole trilogy itself, was just a really good time. I am here for grumpy/sunshine, along with "adventurous woman finally chasing adventure after being held back by men" every damn day. Every time I hear "Don't You (Forget About Me)" on the radio now, I think of these books first.
17. Erotic Stories for Punjabi Widows, Balli Kaur Jaswal
Contemporary fiction; 2017 (William Morrow)
Another book I probably wouldn't have picked up without my book club (thanks book club!), there was so much to enjoy about this book—in particular, the fact that it is about exactly what the title says, lol. An exploration and tribute to the South Asian community of Southall in London that's both critical and loving, I loved rooting for Nikki, but loved rooting for the Sikh widows and their erotic stories (which listen, some of them were really good) and dreams even more.
18. As If on Cue, Marisa Kanter
Contemporary YA; 2021 (Simon & Schuster)
I loved this SO much. This is the only YA on this list, which proves how behind at my day job I've been…but reading this made me realize how much I do miss reading YA. This is a great rivals-to-romance story (pitting the band geek against the drama nerd when their school's arts budget is cut), but I particularly loved the well-drawn depiction of Natalie's family (and Reid's, too, although Natalie's is at the heart of the book). The writing is so clear and clever and current—this is a YA book for teens (particularly, driven, nerdy teens). I have seen some criticism of Natalie's actions in this book: she is very intense and makes some very no-good horrible decisions in here. But for me (in addition to adding to the drama of the story, from a narrative perspective—my jaw literally dropped when she did The Thing), Natalie rings even truer to me as a dynamic teen character because of her flaws. Teenagers are very intense and make very no-good horrible decisions sometimes. And all of her fears that prompted her bad decisions rang true to me. Also: let's not even talk about Reid and his curls! Anyway, this one comes out in September, and I can't wait to buy it for my high school library.
19. Accidentally Engaged, Farah Heron
Contemporary romance; 2021 (Forever)
This was just a treat and a half. (I've also mentioned this elsewhere, but I am OBSESSED with the lettering on this cover.) Nadim was a DREAMBOAT of a hero—DREAM. BOAT. And (similar to As If On Cue actually) I loved all the detail/complexity paid to Reena's family and their dynamics. The plot was also a fun twist on the fake engagement/dating trope, as it was like…a real/fake/real/fake engagement (probably not a technical description; read the book to understand what I mean). Heron also gives such wonderful, loving descriptions of food in her books. Bread is the real star of this one (my favorite scene of the book is hands down when Nadim keeps like a hundred sourdough babies whilst looking after Reena's sourdough starter), but there is so much MORE than bread, too, that I was salivating for most of this read.
20. An Unexpected Kind of Love, Hayden Stone
Queer contemporary romance; 2021 (Entangled)
Hayden is a friend of mine, so I've had the pleasure of reading this in a few stages of its journey to publication, and I'm so excited to see it go live. Out in August, this is a queer take on Notting Hill, featuring a grumpy British bookseller and a charming American actor, and do you even need to know more than that? Stone's writing is at turns wry and poetic, and I just really love these two and their sweet, tender love story. I want to hang out in Soho at Barnes Books so bad.
---
I'll be back in December or January with my favorite reads of the second half of the year—when I'll also be just weeks away from releasing my own book. (!!) I definitely won't be freaking out at all.
xo
Anita