In this year that has been so full of pain, these books have been such a gift. I love them with all my heart.
You can find my list of Top 25 reads for the 1st Half of 2020 here.
As always, these lists are not genre or pub date dependent; they are a summary of my reading habits: 90% romance, 8% middle grade and YA, 2% other weird stuff sometimes.
Presented in no particular order:
Boyfriend Material, Alexis Hall
Queer contemporary romance; 2020 (Sourcebooks)
This list will be rather Alexis Hall heavy, so I'll try to temper my flailing. If possible. This was, without a doubt, the funniest book I read this year, and the book that brought me the most unadulterated joy. Whipsmart, queer af, tender. Any time I need to smile, I think about "No, this is just another homosexual I am standing next to," and I laugh forever. Honestly, I cannot wait to re-read it.
Take a Hint, Dani Brown, Talia Hibbert
Queer contemporary romance; 2020 (Avon)
I have loved everything I've ever read of Talia Hibbert's, but this is probably my favorite thus far (with Work for It being a close second). Zaf was, hands down, the swooniest cis male romance hero I read this year, and Dani is…iconic. No one writes feelings quite like Talia. She's just so good.
It is hard to believe that I read both this and Boyfriend Material within a month of each other and didn't give up writing completely thereafter. (Contemplated it, though.)
Beach Read, Emily Henry
Contemporary romance; 2020 (Berkley)
Christ. I'm on #3 in this list and I'm already out of words about how good the books that came out this summer were. "So smart and good I could barely fucking stand it" applies to all three of the above, okay? There were some mixed feelings about this one in the romance community, mainly because it's probably more a mixture of romance and women's fiction than straight up romance, but I was all in and so beautifully destroyed by this book.
The Devil of Downtown, Joanna Shupe
Historical romance (Gilded Age NYC); 2020 (Avon)
Overall, my consumption of historicals this year was on the lighter side, but obviously I had to gobble up the final book in Shupe's excellent Uptown Girls series. I mean, it's a social justice warrior (which I use as a form of highest respect; can we reclaim this please) bringing a gangster to his knees with love. Obviously I loved it!!
You Had Me at Hola, Alexis Daria
Contemporary romance; 2020 (Avon)
This was one of the most interesting romance books I've ever read, in terms of narrative choices—this romance between two movie stars is alternately told between their real lives and their characters on the screen, and how Daria expertly blends the two is just so cool! And fun, and sweet, and all the other hallmarks of a well-done romance. I was thinking about this one for quite a while after finishing it.
Today Tonight Tomorrow, Rachel Lynn Solomon
YA contemporary romance; 2020 (Simon & Schuster)
My favorite YA of the year. This takes place over the course of one day, on these sworn rivals' final day of high school in Seattle, and it is so achingly romantic? Oh my pickles. Another one I can't wait to re-read, and fall in love with these overachieving dummies all over again. Truly fantastic.
The Soldier's Scoundrel, Cat Sebastian
Queer historical romance (Regency England); 2016 (Avon)
There are a few authors' backlists I'm dangerously close to completing, and Cat Sebastian is one of them. Somehow, after reading all of her other Avon historicals (including the wonderfully gentle Two Rogues Make a Right from this year), I had never read this one, her very first. And…it is unfair? That this was her first book and it is so, so good? Sebastian is able to weave history and sexy sexy tension and page-turning plot SO well. I only have one book of hers left to read, Hither Page, which I will probably break down and read in 2021, and then I'll just need to…wait for her to write…new things? 😦
To Have and to Hoax, Martha Waters
Historical romance (Regency England); 2020 (Atria)
Me, a few paragraphs ago: "I really didn't read that many historicals this year!"
Me, now: *continues to include historical after historical* lol oops
Anyway, this was for sure the most FUN historical I read this year. I lurrrrve an estranged married couple trying to make their way back to each other, even when the way they choose to do so is…continually lie and prank each other, to the point of ridiculousness? Haha but such entertaining ridiculousness that only proves how much they ARE meant to be forever. *weepy heart eyes*
The Love Study, Kris Ripper
Queer contemporary romance; Carina Adores (2020)
This was one of the first contemporary romances with a non-binary character who uses they/them that I've read other than my own, which was so refreshing (and made me want to sit down with Ripper and talk out our thought processes on writing non-binary love interests, because I need someone to talk to about these things). Declan, the main character, is exactly the kind of hilarious, messy queer that I legit can't get enough of (see: Alexis Hall), and the queer friend group is the kind of queer friend group I can't get enough of. In addition, I thought the YouTube storyline was super current and fun. And calling something "super current" 100% makes me "super old," but oh wells!
Looking forward to enjoying more next year from the Carina Adores line, which exclusively features tropey, fun queer romance.
No Fixed Address, Susin Nielsen
Middle grade contemporary; 2018 (Wendy Lamb)
This fall, I did attempt to hunker back down into my actual job, which involves being current on both middle grade and YA lit. Susin Nielsen is a veritable genius, in my opinion; every single thing she writes gets both funnier and more poignant, and as a former writer for Degrassi, she's great at really GOING THERE. I loved everything about this book about a boy struggling with being houseless in Vancouver, BC.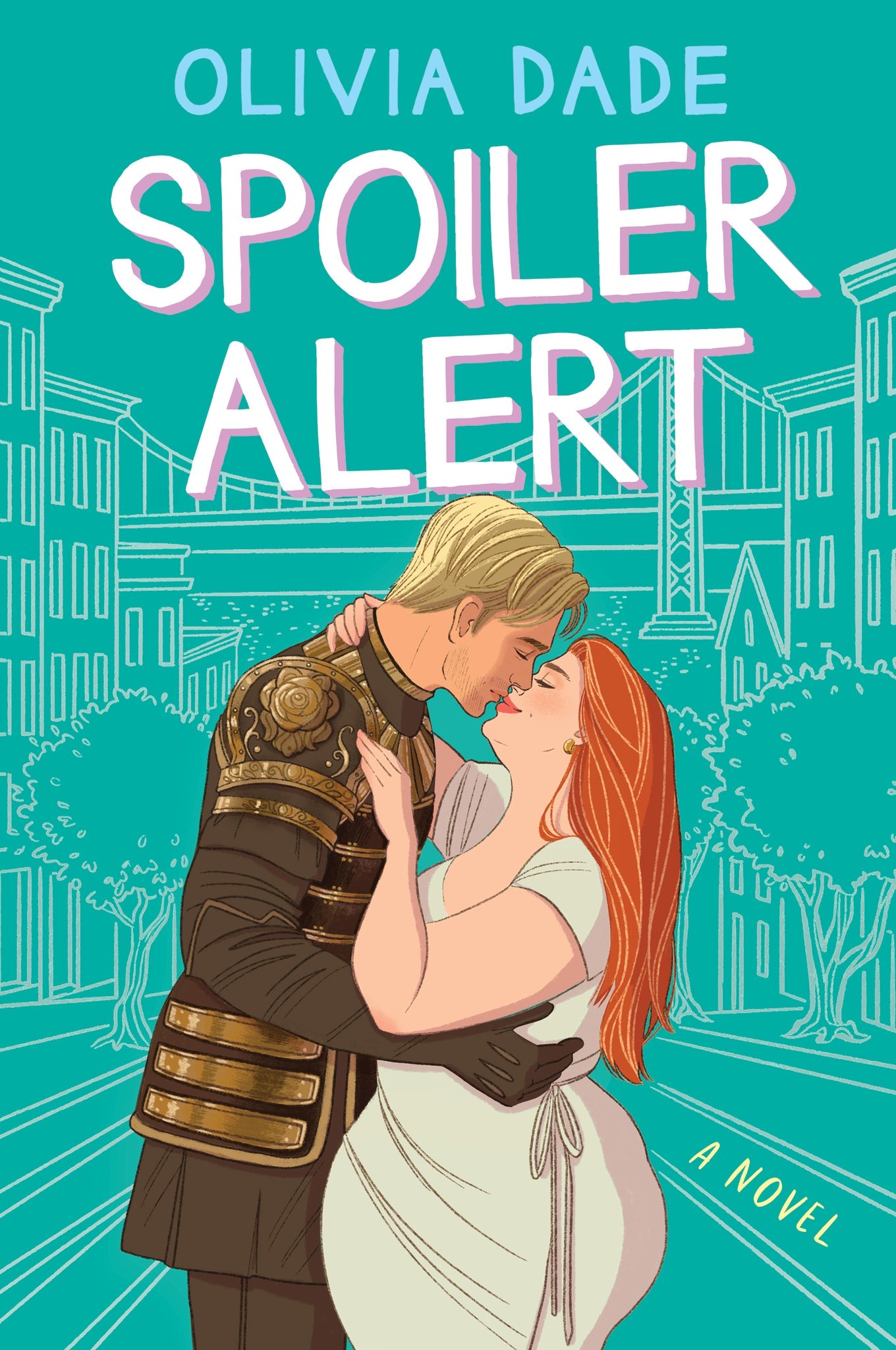 Spoiler Alert, Olivia Dade
Contemporary romance; 2020 (Avon)
Ack, this cover, this book! So smart, so fun, so sexy. I love how Olivia Dade always treats her characters with so much respect, and I love how this book isn't stealing from fan fiction, but paying honest, loving respect to it. It is such an important difference, in my book. The stakes and the backstories here were so touching and well done. Oh, Marcus, you earnest, wonderful cinnamon roll, I would eat you with a spoon.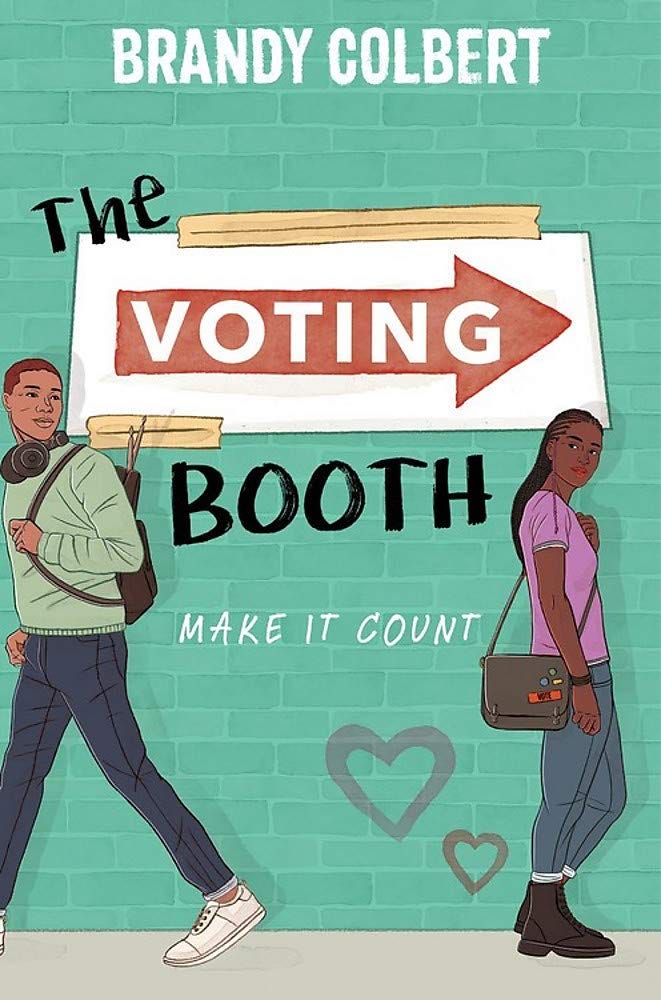 The Voting Booth, Brandy Colbert
YA contemporary; 2020 (Disney)
I actually read this one during election week here in the US, and wow, what a caring decision I made for myself! Another all-in-one-day YA story, which is apparently really my jam, this is both a sweet love story and a moving tribute to the power of the vote. I loved it.
So Over the Holidays novellas, Erin McLellan
Queer erotic contemporary romance; 2019/2020 (self-published)
This whole series was SO FUN OMG?? I'm a little obsessed with the whole thing, but my favorite was probably Candy Hearts, followed closely by Bottle Rocket, but the other two are enjoyable as well. Just YOWZA levels of hotness (and such a fun variety of queer pairings!), but also really pure storylines? I love the supportive family unit of siblings that comprise most of the MCs of this series—Benji is one of my favorite characters I've read all year—and their erotic art/sex toy/lingerie making friends. (insert crying laughing emoji, but sincerely, I love them)
Common Goal, Rachel Reid
Queer contemporary romance; 2020 (Carina)
While we're on the topic of pure characters & their hot exploits, let's move on to Common Goal! Reid has two more hockey romances coming out next year (I think!), and thank Jesus for that, sincerely, because I could read about these queer hockey bros forever and ever and ever. I don't know exactly how Reid does it, but every single one of her books feels like slipping inside the comfiest blanket, where all the men are kind and good and deserve all the orgasms they receive. I'm particularly trash for an experienced-one-teaching-the-inexperienced-one trope, so I was all over this manly upright citizen getting to explore his bisexuality for the first time like an eager puppy. Probably now my second favorite in the series after Heated Rivalry (which I re-read, also during election week, another kindness to myself!!), but they are all honestly so good.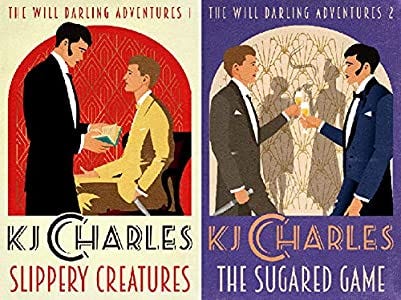 15 & 16. Slippery Creatures & The Sugared Game, KJ Charles
Queer historical romance (1920s England); 2020 (self-published)
Hot damn these books! Both of these characters are just so fascinating?? And, well, slippery? And the ACTION, and the hate/love tension, geez Louise, I just. Don't know how Charles does it. And as always! So fun to read historicals that aren't Regency (not that I don't still love Regency). I am sort of dying for the last in the trilogy?!
Granted, John David Anderson
Middle grade contemporary fantasy; 2018 (Walden Pond)
Another middle grade from another middle grade master; like Susin Nielsen, I love everything John David Anderson. This is a fable about a fairy who finally gets to go out into the world to grant her very first wish, the most esteemed job a fairy can ever aspire to, and things go a bit haywire. And, well. I cried. A lot.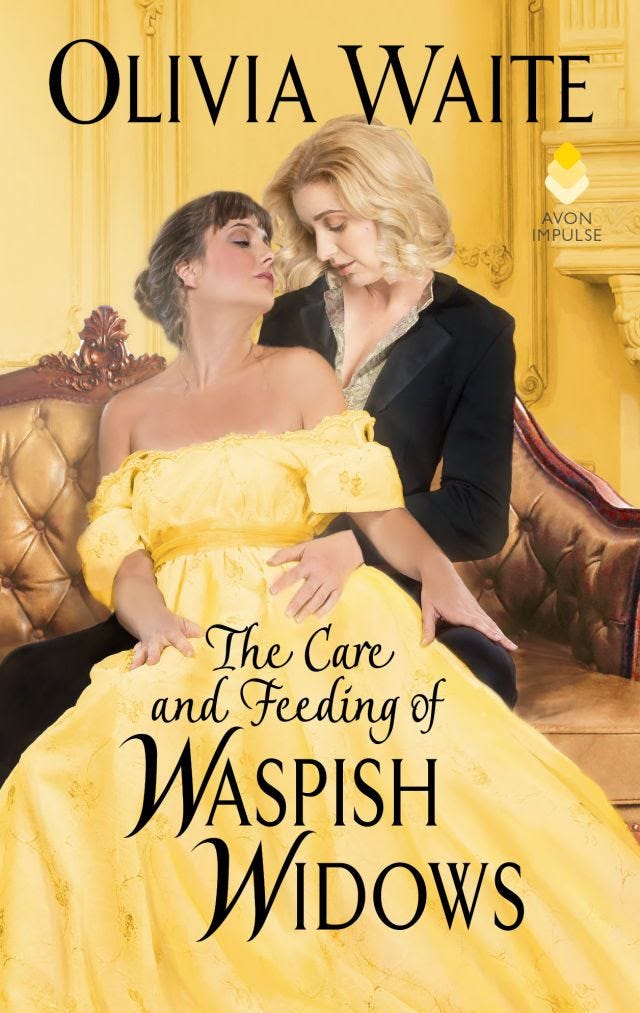 The Care and Feeding of Waspish Widows, Olivia Waite
Queer historical romance (Regency England); 2020 (Avon)
Waite's The Lady's Guide to Celestial Mechanics got a lot of attention last year, and while I did enjoy that one, whoa, I loved this one even more! Just something about plucky beekeepers and cranky widowed printers that really gets me going, I guess. In seriousness, it's clear that Waite's smarts and her research are immaculate, and it all really worked for me here. A lot of the bad guys in this one were also so bad and made me so mad and seeing Agatha and Penelope best them was *chef's kiss*
I Wish You All the Best, Mason Deaver
YA contemporary; 2019 (Push)
Yeah, I was behind on this one, but I've accepted that I'm going to perpetually be behind on YA for the rest of my life, so. This book about a non-binary teen getting kicked out of their house and finding a home with their estranged sister and an effervescent boy named Nathan was the loveliest, and I wanted to give the whole thing a really, really tight hug.
City of Ghosts, Victoria Schwab
Middle grade mystery/horror; 2018 (Scholastic)
This was one of those fun ones for me as a school librarian, because almost as soon as I started it, I knew it would be one I could recommend to all kinds of kiddos, over and over again. It's also one of those books that make me laugh at myself because I found it legitimately scary at times, and I knew my students would be staring at me and rolling their eyes when I told them so. I also loved, loved Jacob and hated, hated that he was a very dead ghost, and this is why I can't read haunty things, lolz.
The Remaking of Corbin Wale, Roan Parrish
Queer contemporary witchy romance; 2018 (self-published)
I don't know how to characterize this, honestly—is it paranormal romance? Kind of? Maybe? I dunno, but it's definitely witchy and weird, and there is a lot of Jewish baking and pining, and wow, like so many things Roan Parrish does, it was just so…pretty. I love her himbos who fall in love with weirdos. Corbin Wale is a character I'll be thinking about for a long, long time.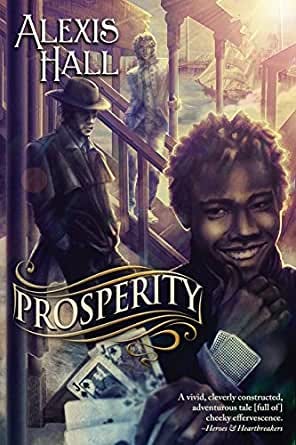 Prosperityverse stories, Alexis Hall
Queer fantasy; 2018 (self-published)
I am technically not done with this series, although I hope to finish it all early in the new year. It is hard to know how to summarize Prosperity; it is so different from a lot of Hall's other work, but I think that's what makes me so dumbstruck about it? To possess the kind of brain that can create so many different things? I can't really talk about it without getting weird, SO, let me just say that I've had to take in every part of this series in slow bits and pieces because each bit and piece makes me think so much, and is such an interesting part of the puzzle of this universe, and, man. In summary, I would die for Byron Kae.
One thing I might like to do next year in these lists is include a quote with each of my favorite books. I am too lazy to go back and do that for everything else on this list now, but since I just recently read this bit, here is a quote from this universe that made me weep.
Written in the Stars, Alexandria Bellefleur
Queer contemporary romance; 2020 (Avon)
Something I'm super into recently in contemporary romance is DATES, like actual awkward/wonderful dates, and the dates in here are STELLAR. The Japanese burger/thrift store date?? *pounds table* A PITCH PERFECT SEATTLE DATE! Watching these two women fall in love was so freaking fun and swoony and wonderful. Masterfully constructed. I absolutely loved it.
Brazen and the Beast, Sarah MacLean
Historical romance (Regency England); 2019 (Avon)
The second in MacLean's Bareknuckle Bastards series, I loved this one just as much as the first. The d r a m a in these books is unparalleled. In addition to making such memorable characters (The Year of Hattie, YES), these are the rare books where I think I genuinely like the blowing-shit-up bits just as much as the sexy bits. Remarkable!
Arden St. Ives series, Alexis Hall
Queer contemporary romance; 2017/2018 (Forever)
So in romance, there are tropes, right? And often a thing people say is, "I'll read any trope except the billionaire trope, because fuck billionaires," and I am like RIGHT? 100% AGREE. And, *nervous laughter* then I read these books? And then…I read the entire series again, a month later? Because I loved them so much that I missed them?
This list really isn't in any particular order, but I did save these for last in case I'd think of some better way to describe how I feel about them by the time I got here, and obviously, I didn't. But the a n g s t and the hilarity and the submission and the *sobs* EVERYTHING. This is a series about love and sex and consent and finding yourself and re-finding yourself and Arden St. Ives is my favorite person in the world who isn't real. There are so many interesting things Hall does with these books; the last book is like…an entire book of the dark night of the soul moment, which is torturous and fascinating, but also it's NOT, because the characters need an entire book of the dark night of the soul to heal themselves, so actually it's beautiful? Or Arden needs a whole book to heal himself; Caspian just gets more lost, but *SOBS LOUDER* ANYWAY THESE ARE MY FAVORITE BOOKS OKAY THANKS FOR READING!!
Can't wait for all the stories I'll get to consume in 2021. We are so lucky to have so many stories.
xo
Anita